Upcoming Conferences
1) "Take the Leap" Hybrid Conference (Oct 24 & 25, 2017)
Registration is now open for the online/ in-person Take The Leap: Embrace Change conference taking place this October.
This event is a partnership with AL!VE (Association for Leaders in Volunteer Engagement), Better Impact and VMPC. The event features engaging speakers from the US and Canada, including our own Carol Dixon and Erin Spink, and will be in TED talks-meets late night talk show format.
It is perfect opportunity for volunteer centres, professional associations or organizations to host a learning event which will bring together colleagues in-person locally while engaging in online conversation with people across the country and across the border.
More info: Take_the_Leap_-_English_Ad.pdf
Cost: $500 per site for VMPC members or $550 for non-members
Registration: http://www.betterimpact.ca/take-the-leap-vmpc-registration-form/
Questions? Contact Lindsay at pd@vmpc.ca or 604-659-3572.
2) 2018 National Conference (May 30 - June 1, 2018)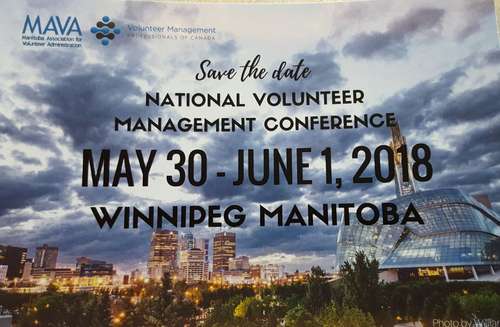 Save the date for our next in-person conference hosted by the Manitoba Association for Volunteer Administration. More information coming soon!
Questions? Contact conference@mavamanitoba.ca