VMPC National Forum
Registration is now open for the 2021 National Forum - Revitalize. 
Registration - VMPC National Forum 2021 - Revitalize
The Forum is complimentary to all VMPC members. The first 50 people to register will be entered into a prize draw. Space is limited so register early!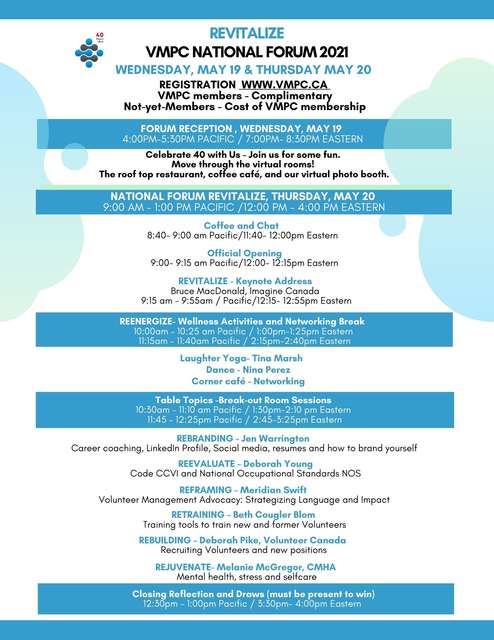 **You must be a current member of Volunteer Management Professionals of Canada (VMPC) as of May 15, 2021 in order to attend this event.**
If you are a non-member, you can purchase a membership online for $80 at https://www.vmpc.ca/cgi/page.cgi/m_application.html
If you live in Saskatchewan, Ontario, Quebec, Nova Scotia, or New Brunswick, join a provincial affiliate group and obtain the $40 VMPC affiliate membership rate. Check out affiliates here https://www.vmpc.ca/affiliations.html
---
 Volunteer Management Hybrid Conference

October 19 & 20, 2021
'Diversity, Equity & Inclusion: Real Impact for the Real World' is a volunteer management conference presented by AL!VE, Better Impact, and VMPC. Now in its seventh year, this year's topic will explore how balancing innovation and aversion to risk impacts our volunteers, programs, and agencies, now and in the near and far futures. Our current streaming event will consist of a 20-minute presentation followed by a moderated discussion with the other presenters (think TED talk meets late night tv), including responding to questions from the audience posted on Twitter.
For more information visit:  https://www.betterimpact.tv/vmhc/ 
Questions? If you have questions, please contact Tara, Chair of Regional Representation, at regionalrep@vmpc.ca