2019 National Conference in Ottawa
Registration is now open for LiVE– Leaders in Volunteer Engagement Conference in Ottawa May 15-16, 2019.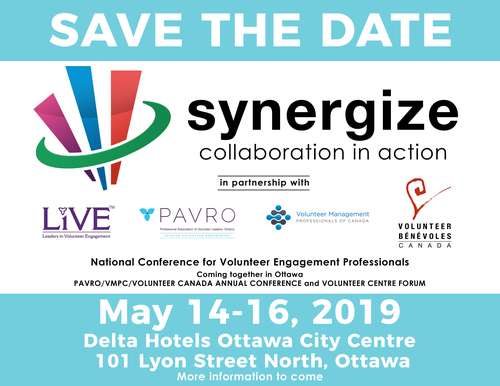 We look forward to seeing you at our next in-person conference taking place spring 2019 in our nation's capital, Ottawa. This event will be co-presented by PAVRO and VMPC. Volunteer Canada will also host their Leadership Forum in conjunction with this conference making it a must-attend event!
Volunteer engagement professionals can now register for the LiVE– Leaders in Volunteer Engagement Conference, to be held at Delta Hotel, Ottawa City Centre, May 15-16, 2019.
Registration fees for the two-day conference include the keynote speakers, lunch and workshop sessions.  
REGISTRATION LINK: https://www.pavro.on.ca/LiVE-registration/
Early bird registrants can benefit from a discounted rate until March 31. Volunteer Management Professionals of Canada VMPC Members will require a special conference code: VMPCSYNERGIZE2019
Members from the Professional Association of Volunteer Leaders-Ontario's (PAVRO) can benefit from a preferred rate.
With Collaboration in Action as the main theme, the event will also bring together Volunteer Centres from across the country. They will gather for their Leadership Forum on May 14-15 at the same venue.
The Synergize Conference program is LIVE !
For details on the program schedule and speakers. https://www.pavro.on.ca/conference_program/
Where to Stay at Conference
Book early! Accommodation details for the Delta Ottawa City Centre hotel are now available.
https://www.pavro.on.ca/Accommodations/
Westjet is offering Synergize delegates 5% off Econo* and 10% off EconoFlex and Premium fares for travel within Canada and 2% off Econo*, 5% off EconoFlex and 10% off Premium base fares for  guests travelling Trans-border** into and out of Ottawa. 
To take advantage of this offer, you will need the discount code listed. Please visit www.westjet.com/conventions or contact your travel agent to make a booking. 
Travel from: May 7 – 24, 2019
Coupon code: L43FK21
Promo code *Travel Agent use only: WDD82