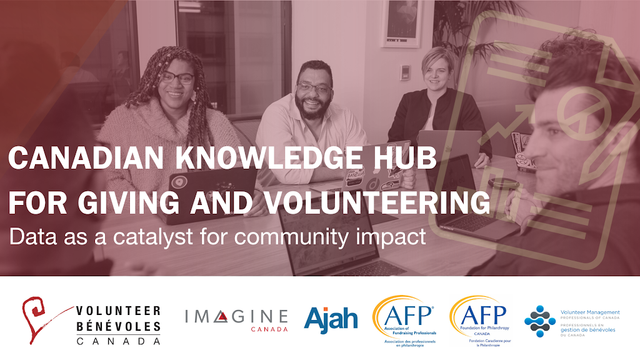 Did you know for the past two years, we have been working with volunteer Canada, Imagine Canada, and the Association of Fundraising Professionals on a data engagement project? One of the main outputs of this project is The Canadian Knowledge Hub for Giving and Volunteering.
The Hub is a valuable resource that serves as a central repository of information and research related to philanthropy, giving, and volunteering in Canada. Its importance lies in several key aspects:
1. **Data and Insights:** The Hub compiles data and research on charitable giving and volunteering trends in Canada. This information helps organizations and individuals make informed decisions, allocate resources effectively, and better understand the philanthropic landscape.
2. **Resource Sharing:** It serves as a platform for sharing best practices, tools, and resources related to fundraising, volunteer management, and nonprofit operations. This fosters collaboration and knowledge exchange among organizations and professionals in the sector.
3. **Advocacy and Policy:** The Hub plays a role in advocating for policies that support charitable giving and volunteering. It provides evidence-based research to inform policymakers, potentially influencing the development of policies that benefit the nonprofit sector.
4. **Capacity Building:** By offering a wealth of information and resources, the Hub supports the capacity-building efforts of nonprofits, charities, and volunteer organizations. This, in turn, helps these organizations become more effective in achieving their missions.
The Canadian Knowledge Hub for Giving and Volunteering is a vital tool for anyone involved in the charitable sector in Canada. It facilitates data-driven decision-making, knowledge sharing, and advocacy, ultimately contributing to the growth and effectiveness of the philanthropic and volunteer sectors around the country.
We hope our VMPC members and all leaders of Volunteers will checkout and use The Knowledge Hub!
The test site is currently up and the official site will launch by the end of 2023! Stay tuned for more information.